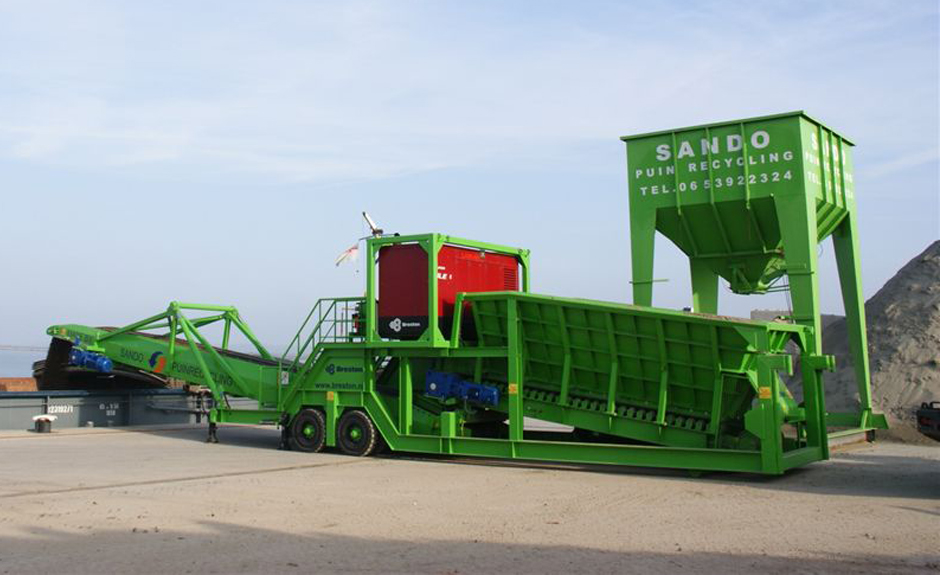 04 May

Overhaul Feeder 23-1400
Loading and unloading, all in one
After more than 11 years of intensive work, this mobile loader is in need of a major overhaul.
We delivered this mobile loader with telescopic conveyor belt to Sando Puinrecycling B.V. in 2009. This machine is ideal for transporting raw materials from 0 to 40 mm, such as: granulate, landfill, slag, sand, etc. We have designed this machine especially for these heavy applications. For example, depending on the application, the machine can easily transport between 800 and 1000 tons per hour.
Breston is known for thinking along and unburdening the customer, this machine is a clear example of our vision. Fully designed and created according to the wishes and requirements of our customer. Thanks to our care and maintenance, the machine has functioned without any problems for 11 years. Now the machine is back at our factory for an overhaul. The rubber conveyor belt is renewed, the rollers and bearings are replaced and the motors are checked and refilled where necessary.
The conveyor belt is equipped with its own receiving hopper with conveyor belt. With a shovel, the rubble can be discharged into the receiving hopper, which distributes the rubble evenly over the telescopic belt. The extended length of the telescopic belt is 23m and has a belt width of 1400mm. At the highest setting, the telescopic belt can drop up to 12.5m. To make the machine fully mobile, it is equipped with its own generator set of 280 kW.